Sailing

I am 13 A TEENAGER. I live in Brightlngsea, sail there and race an International Mirror Class Dinghy with my friend Phil. I am learning to Windsurf (Sunset Slalom F2) and play the trombone. Sailing is my great love and with Phil helming I waS second in the National Championships LAST year which wasn't bad. Phil's brother Clive borrowed the boat in August last year and with me crewing again we won the Mirror World Championships, the first time the UK squad has beaten the Aussies since 1983. This means I am now Mirror World Champion until the next event which used to be every four years but is now every two (in Canada next). I hope to be there to defend it with Phil.

Here is the picture of Clive and I coming back to the shore after winning the Championship. The team coach is leading us in and they even played Rule Britannia on the seaside loudspeaker system!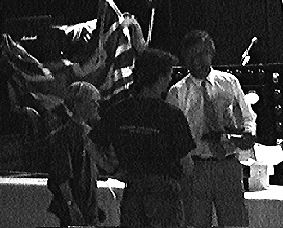 This is Clive and me getting our trophy
---
Music

I play the Trombone and am doing my grades. I love it. If you have interesting stuff to tell about Bones and playing them mail me about it, several people have already...

Mail me at: -- toby@ultralab.anglia.ac.uk


---
Other Stuff I Like

I also like Windsurfing, Skateboarding, Skimmer boarding, radio control cars, Rugby, Macs (but not ugly Windows, ugh), and other stuff. I'll try to get organised enough to explain more about these for you all out there.


---

---

ULTRALAB World Wide Web: compiled by Toby Heppell in May, 1996 in raw HTML.
All opinions and ideas expressed above are my own, my own fault, and no one else is to blame. At all. Or Phil. Is that clear?