The group was set up in February 2014 by three ministers: Michael Gove, Matthew Hancock and David Willetts and followed on from good work done by the DfE group and by the Further Education Learning Technology Action Group.
ETAG's remit covers schools, colleges and universities.
The initial phase 1 task, before Easter, for the group had been to arrive at an agreed vision of what 2025 will / could / should look like and then move on to frame policy suggestions and ideas, for individuals, for institutions and for policymakers that might effectively move us there more rapidly - perhaps by 2020 - in line with the mission that was outlined as our remit ETAG below.
That phase 1 is now complete - and we have clustered those 2025 items into three workstreams, which through their three ETAG workgroups will be welcoming comments and contributions to, from interested parties, institutions and individuals.
ETAG's mission (posted in February 2014):
summed up rather well by ETAG member Bryan Mathers:

But more formally our remit said:
"The Education Technology Action Group ETAG will aim to best support the agile evolution of the FE, HE and schools sectors in anticipation of disruptive technology for the benefit of learners, employers & the UK economy"
...and we have also been asked to identify any barriers to the growth of innovative learning technology that have been put in place (inadvertently or otherwise) by the Governments, as well as thinking about ways that these barriers can be broken down.
In effect, Ministers want to know what we need to do to help grow the use of technology in learning, to make learning better. The word fun was mentioned too, three times!.
---
core membership:
Professor Stephen Heppell (chair, Bournemouth University), @stephenheppell
Mark Chambers (Naace),
Professor Angela McFarlane (King's College London),
Ian Fordham, (Education Foundation)
James Penny, (European Electronique),
Maren Deepwell (ALT),
Professor Diana Laurillard (University of London),
Jill Lanning (Federation of Awarding Bodies).
Phil Richards (JISC),
David Hughes (NIACE),
Bryan Mathers (CGLI),
Dawn Hallybone (Oakdale Junior School)
Pauline Odulinski (EFT),
Manoj Badale, (Blenheim-Chalcot),
Bob Harrison (education adviser for Toshiba Information Systems UK Ltd),
David Brown (HMI),
Professor Peter Twining (Open University),
Niel McLean (e-skills UK)
There is a vast experience within this team - which was lightly tweaked for gender, age, SEN and current classroom experience.
We will be consulting widely and openly. Please do join in as asked from April 23rd 2014.
Monitor #etag in Twitter too.
---
A simplified diagram of our action plan is this: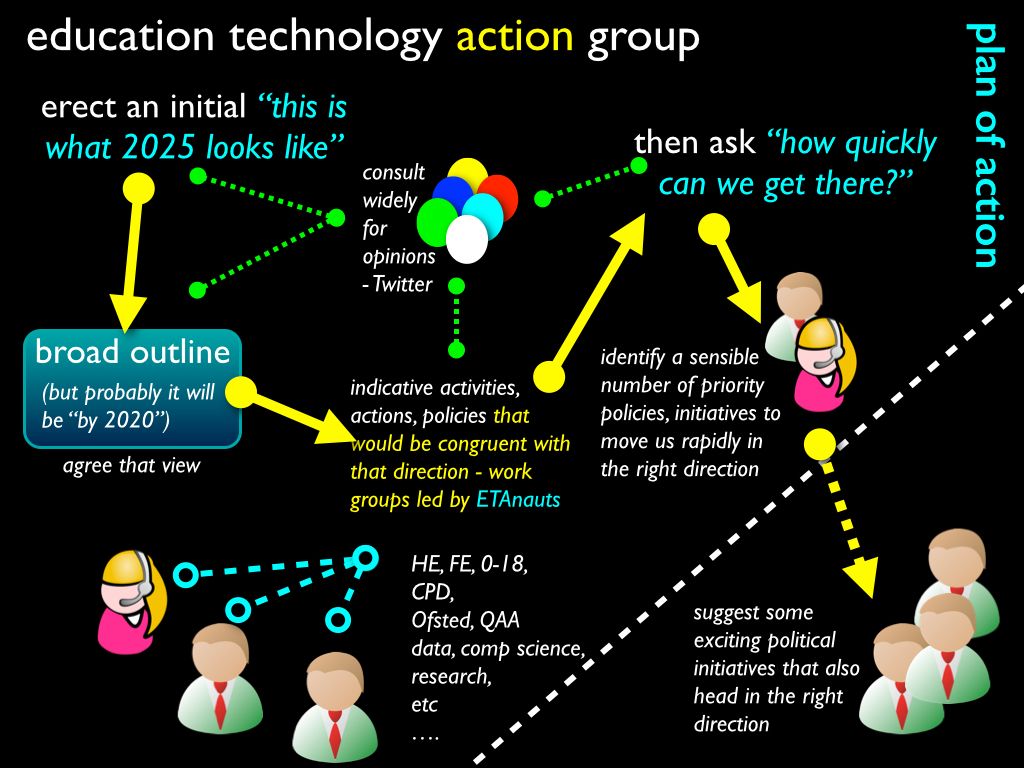 see also this useful summary blog comment by Merlin John (thanks Merlin).
---
Please see our view of 2025 futures, our articulation of those - and our call for contributions to the ETAG workstreams.
---
this page created by Stephen Heppell on Wednesday, February 6, 2014 2:37 AM and last updated Monday, May 5, 2014 1:26 PM